26 February 2020 / ARTYŚCI / NEWS
LEGENDARY CARL COX IS OPENIENG SUNRISE FESTIVAL 2020 LINE UP! SEE WHO WILL BE PLAYING ALONGSIDE
The day you've all been waiting for has come! With great pleasure we present to you first, spectacular artists, who will be performing on Sunrise Festival's 18 th birthday. Are you ready? Today we present to you the line up of "Carl Cox Invites" stage, which will be hosted on Friday 24 th July. It is when the great 6 DJs will showcase their skills and take you to heaven. We open up with a big bang, but that is just beginning. In upcoming days, you will get to know another amazing stars, that will shake Podczele! Ticket sale starts on 1 st March only at https://sunrisefestival.pl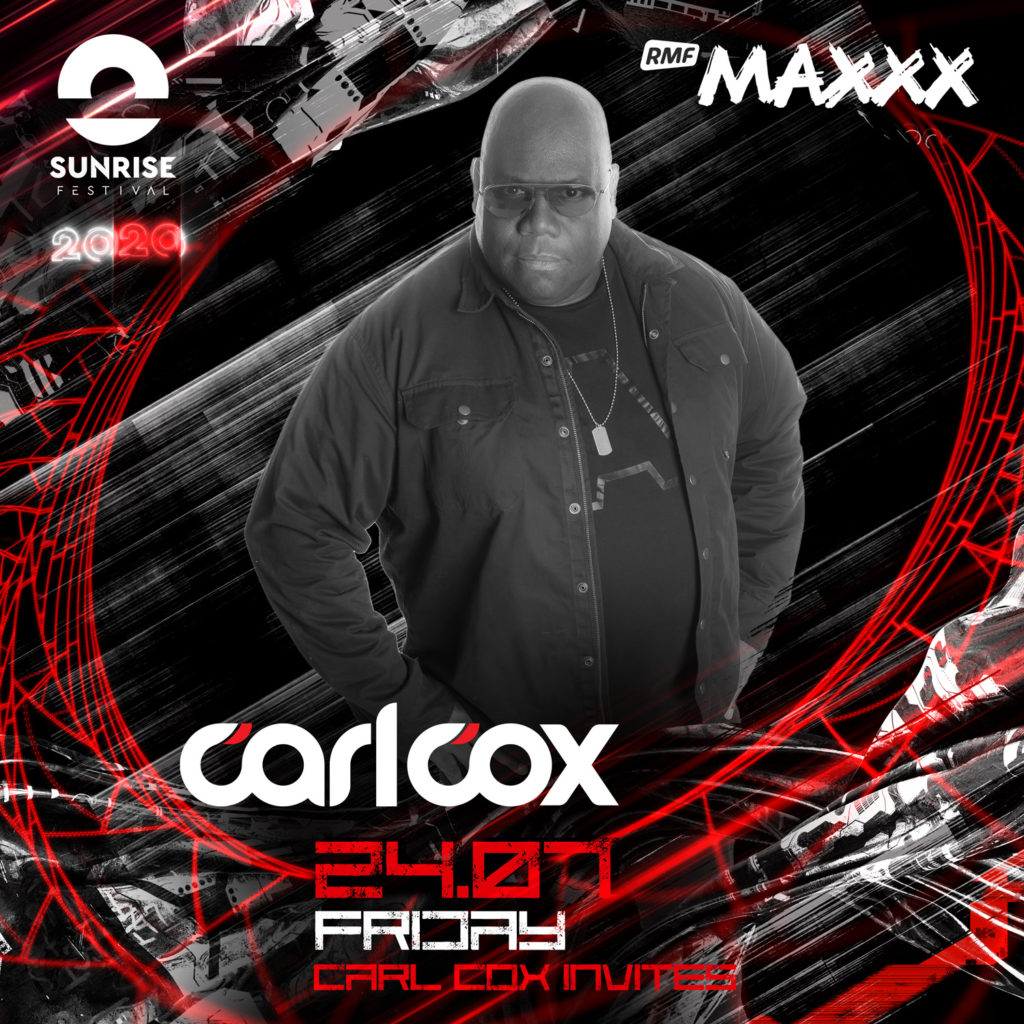 He only played twice in Poland – last time 10 years ago. Now he's returning in glory and will show you what power of techno means. Please welcome Carl Cox – the uncontested electronic music legend.
He's the pioneer of dance music, virtuoso of energetic sounds, king of techno. For over 40 years of his DJ career he let the fans all around the world to get to know him. Many calls him the best DJ of all time. The Englishman has been a resident of Ibiza top clubs for many years and a regular on the biggest festivals all around the World. After many years of trying, he's finally destined to perform on Sunrise Festival. #CarlCoxInvites will be the stage hosted by the man himself on Friday 24th July. We are sure that many dreams will come true on very first day of our 18th birthday celebration! Carl Cox will be playing alongside his very own guests, what will guarantee the highest musical level and unique show, that you won't forget quickly. This is a must be!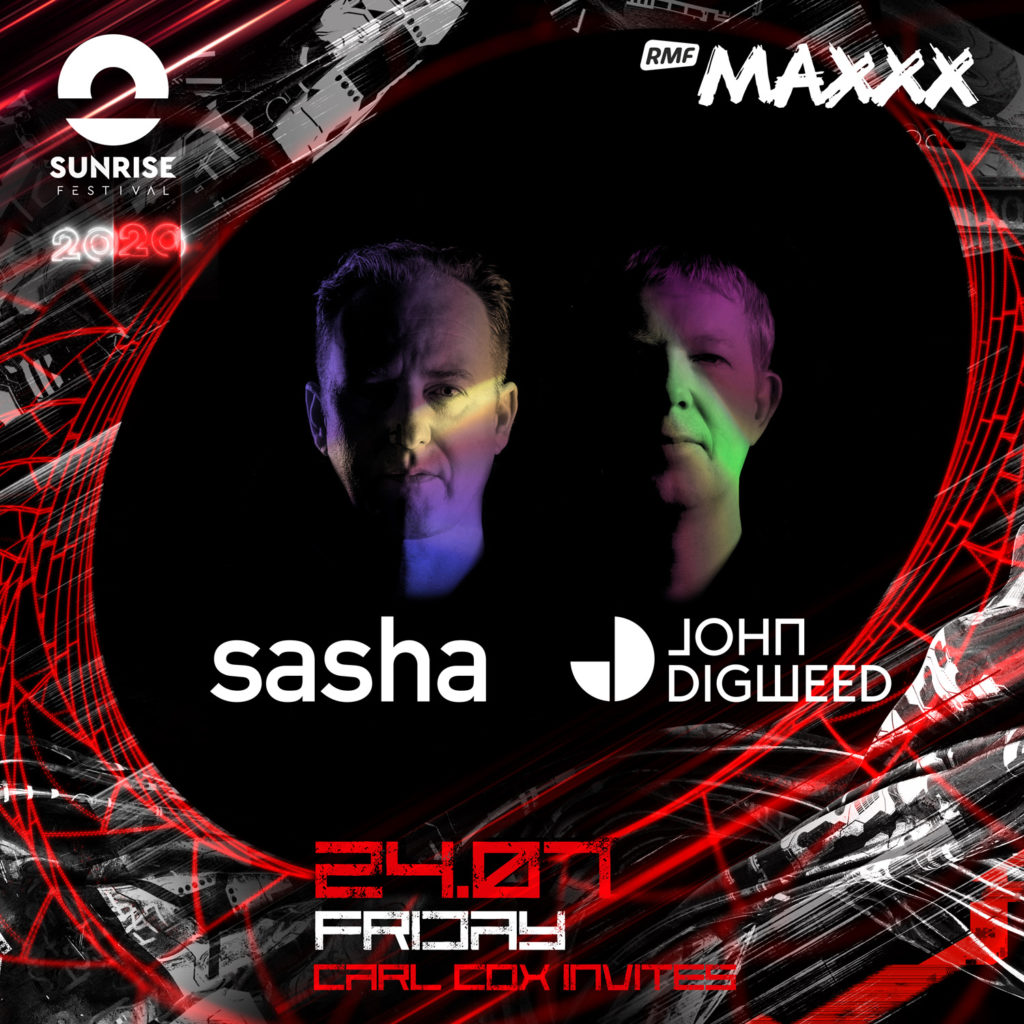 A huge debut on our festival! Legendary duo Sasha & John Digweed are joining Sunrise Festival line up. The first one is an undisputed guru of progressive house, who hypnotizes his audience with every performance! As one of the few artists can empathise in human emotions and take his fans on unbelievable musical journey. He's known for his amazing DJ skills, excellent productions, compilations and exceptional track selection. A prestige Grammy nomination is proof of his abilities.
A living icon of British scene and house music legend! John Digweed will debut on Sunrise Festival and he will charm you for sure!
He was #1 in DJ Magazine in 2001! He has performed on nearly every corner of the World, always gathering crowd of fans. He made himself known as an exceptionally talented producer, for who music is life. Co-producer of iconic "Heaven Scent", which is a go to for many artists even after two decades! Who doesn't know this hit? Sasha & John Digweed will perform on #CarlCoxInvites and prove that they belongs in the top ranks.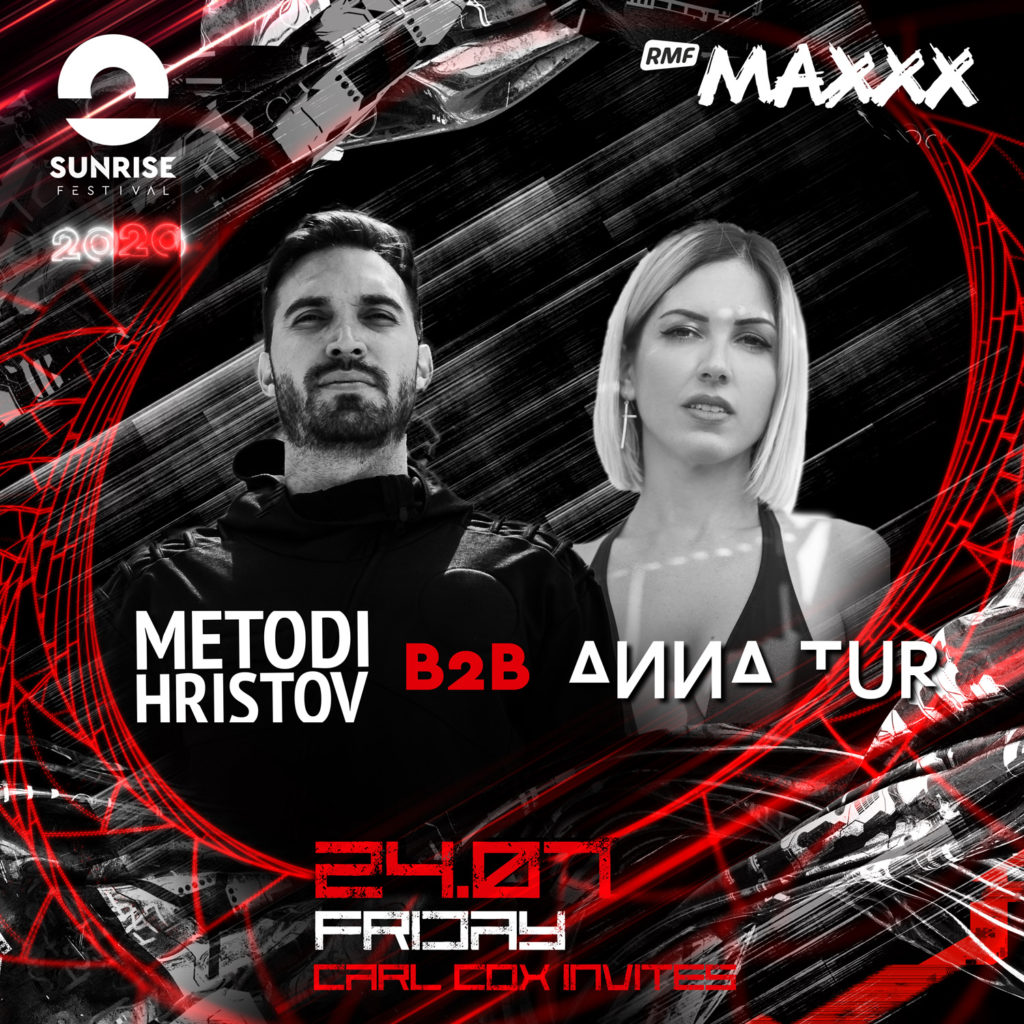 Another duo representing underground scene! Incredibly charming and talented ANNA TUR will unite the force with the one of a kind, amazing Metodi Hristov. Representative of female techno scene sets are an explosive mixture – from house to melodic techno, what can lead the crowd to a state of other consciousness! The Spanish can hypnotise and guarantee extraordinary emotions. Metodi Hristov is an artist with a rich techno repertoire. He loves to experiment and combines different subgenres, what guarantees unique musical experience! Despite short presence on the scene, he has released a ton of great productions, which has excited the biggest underground heads. Their set will be full of energy! The duo will perform on first day of Sunrise Festival 2020 as a guest on #CarlCoxInvites stage.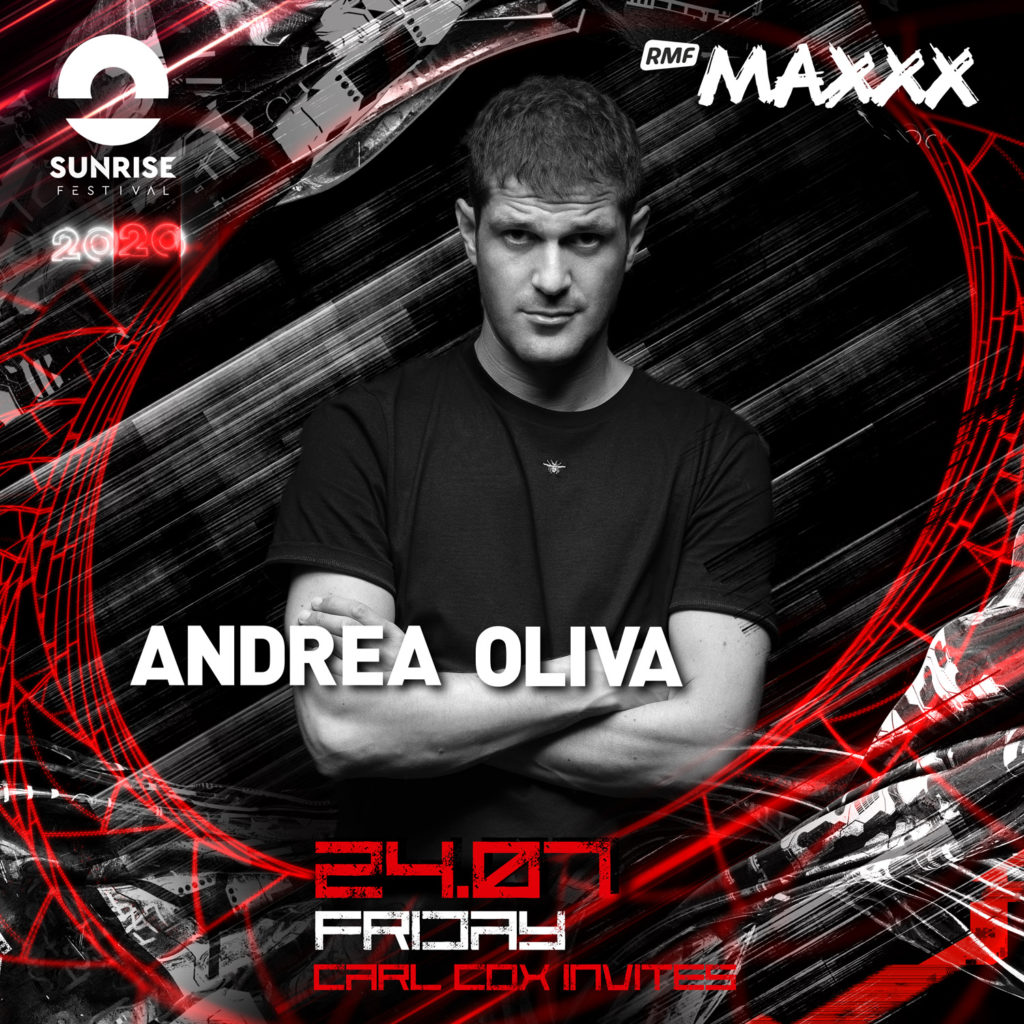 Swaying groove and energy directly from Ibiza – that's his main assets! With greatest pleasure we are welcoming back Andrea Oliva to our festival. The Swiss can tell a musical story and as a member of UNITED ANTS collective he's performing all around the world. You'll be able to hear his tech-house craft on the very first day of Sunrise Festival 2020! Andrea will be a guest on #CarlCoxInvites stage 🖤
26 February 2020