29 February 2020 / NEWS
SunCity! Check available packages
We are getting closer to Sunrise Festival 2020 with every day! 18th edition of our festival will take place between 24 th and 26 th July on ex-airfield site in Podczele. We already know that this year you will enjoy yourselves on 6 different stages: Black, Blue, Red, Silver, Sun and White, where representatives from nearly every sub-genre of electronic music will perform for you. Of course, the biggest stars, spectacular scenography, stunning pyrotechnic shows and visual setting will be there as well!

It's time to reveal info regarding SunCity campsite! We have increased the size of the campsite since last year and we took care of the slightest details. We offer you an amazing place, where you can feel unique atmosphere of our festival for 24 hours per day. Campsite is located 50 meters from the festival and 100 meters from the sea and will be vibrant with life every day of Sunrise Festival. It will be full of music, positive vibes and unique atmosphere. You will find here different options in regards to accommodation, swimming pool complex, sanitary zone, restaurant and bars, lockers, charging spots and many chillout zones.
We offer 4 different types of accommodation: BASIC, STANDARD, PRERMIUM and VIP. Basic option includes a designated area of 3m x 3m. You need to bring your own tent and all the equipment needed.

STANDARD option includes a designated area of 4m x 4m. This option also includes a pre-pitched tent, airbed and sleeping bag. It will be all waiting for you prior to your arrival! Do not worry about anything after the festival ends, we will clean up after you.

PREMIUM is a perfect option for those more comfortable. This option includes a designated area of 6m x 6m. The participants will be accommodated in large tent, tipi style. Inside you will find beds, sheets, pillows, quilts, towels, lamp and night stand. The interior doesn't become your property. There is also breakfast included in the PREMIUM option. When checking in there will be a deposit of 500 PLN collected (will be returned after the festival). There is strictly no smoking allowed inside the tent.
For the first time we will also offer option VIP. The participants will be accommodated in Turkish style tents with an area of 25m2. To every tent there will be designated area of the same size. Those tents have special coating that doesn't let the light in. They will be equipped with beds, sheets, pillows, towels, lamp that will light the whole tent, drawers and power outlet with USB ports. In front of the tent you will find sunbeds, sunshade and table for drinks.
This tent will have walls that you can open. It will be locked with a padlock with a code. In the VIP section you will find a special sanitary tent that will be equipped with dressing tables. There will be also access to electricity, so all the beautiful ladies can prepare their make-up and style their hair. There will be also SPA & Wellness section, where you will be able to relax. There will be massages and jacuzzi as well as bar. In VIP area you will also be able to order food and drinks that will be delivered to your tent. For this case we will be creating special panel on WhatsApp to be with you in touch 24hrs a day. Breakfast is also included in the price.
You will be able to purchase option for 1 person, as well as many, depending on the option. Below you can find the prices, that include the 3-day admission to Sunrise Festival 2020 as well as accommodation in SunCity.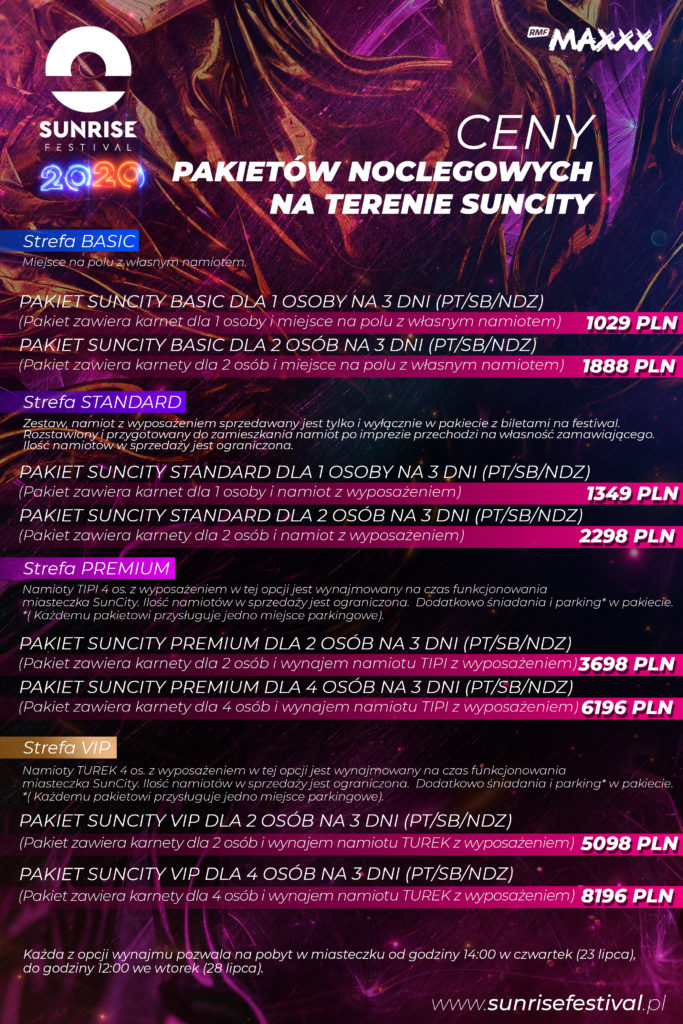 Especially for everyone staying at the SunCity campiste we will throw an official before party before the Sunrise Festival weekend, where well known artists will perform. The campsite will be available from Thursday 23 rd July 14:00. You will have time to leave the campsite until Tuesday 28 th of July 12:00.
There will be quiet hours in the morning in place, so everyone will have chance to rest before the festival. No food is allowed in the campsite, except crisps and snacks. Everyone will be able to bring sealed, non-alcoholic drinks to the campsite and 4 cans of beer. No bonfires or barbecues will be allowed. We put your safety first, that's why we need to have some restrictions.
Last year proved that creating SunCity campsite was a perfect idea. We have accommodated hundreds happy and smiling occupants, that had party almost non-stop thorough 5 days. This year we're increasing the size of the campsite. We will ensure improvements and additional zones, so you can feel exceptionally and more comfortable. We invite you to only such place in the world. SunCity awaits its occupants!
29 February 2020