24 February 2020 / NEWS
WE ARE REVEALING TICKET PRICES AND SALES METHOD
There is less time left until Sunrise Festival! 18th edition of our festival will take place on 24-26 July on ex-airport site in Podczele. We already know that you'll be having fun on 6 different stages: Black, Blue, Red, Silver, Sun and White, where representatives of nearly every subgenre of electronic music will perform for you. Of course, the biggest stars, spectacular scenography, stunning pyrotechnic shows and visual setting will be there! Phase 1 of the fascinating Sunrise Festival's line up you'll get to know this week!

Today, it's time to reveal the ticket sales details. You can purchase the tickets only on our website https://sunrisefestival.pl/ Our ticket sale service starts on 1st of March at 12:00. To be able to purchase the tickets you will have to log in to our system. If you have already signed up last year, you do not need to sign up again, however if this is your first time buying the tickets, you need to sing up. Please be carful when filling in all the requested details, as the ticket distribution depends on what details you will provide.

As always, you'll be able to purchase tickets for each day, weekend admission and VIP tickets. Every participant will receive a ticket in form of a watch with #RFID chip, which will get you access to the festival, as well as you will be able to use it as payment method. Each person will be able to buy up to 10 tickets. With purchase of 8 VIP tickets you'll get access to book a booth in VIP section for 3000 PLN or 5000 PLN, depending on the booth location. Most of the fee will be to your disposition on the bar.

We're going back to previous method of ticket sales. Tickets will be available in 4 tiers. Tickets from the Tier 1 will be in special, discounted price. Each tier has limited amount of tickets. Every next tier the price will increase by several dozens of PLN. Below you will find the prices from TIER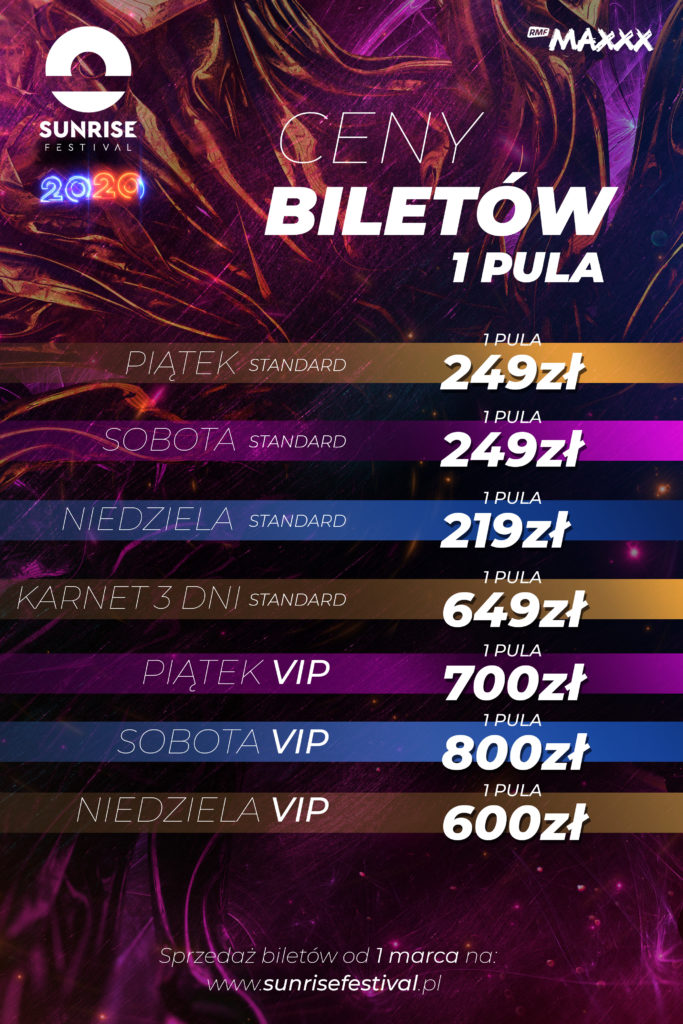 The ticket distribution will start on 15th of May 2020. On Polish soil, tickets will be delivered with DPD – who is a partner of the festival – however, international shipments will be dealt by Poczta Polska (Polish Mail). The only payment method available to use to purchase the tickets is system PayU, where you can pay by bank transfer or debit/credit card. Personalised link to the payment website you will receive in your confirmation email or Order Tab after logging in to our system.
Please remember every ticket has to be personalised. It means you need to provide details of the person the ticket is bought for, that will use this ticket to enter the festival. The latest date you can personalise the tickets is in the Terms and Conditions or Invitation letter you will receive with your ticket. If you won't personalise the ticket in the provided date, the ticket becomes expired, therefore the refund won't be provided.
We hope to see you all on our 18th birthday celebration!

We are preparing an amazing show for you, that you will remember for years!

See you in few months!
24 February 2020